Machine Specific Training
Whether you're an OEM obligated by law to offer equipment training or a business with a specialised machine, we're here to ensure your team understands its workings. 
APT offers tailored machine-specific training to meet your unique needs.
Customised Training for Equipment Owners
Owning equipment comes with specific training requirements. That's why we provide training packages specifically designed for your equipment and site. Get the training you need, the easy and hassle-free way.
Facilitating Knowledge Transfer: Strenthen Your Team
Industry skill shortages have concentrated knowledge in just a few key individuals. Transferring this knowledge is vital for a robust and adaptable workforce. Be it the original machine designer or a seasoned expert, we're here to ensure this essential knowledge is disseminated throughout your team. Our tailored training programs guarantee everyone possesses the knowledge to handle and maintain your equipment safely.
Compliance and Best Practice: Meeting Australian Legislation
In line with Australian legislation, it's essential for all individuals involved in maintaining fluid power systems to be trained and assessed as competent. Our training covers a range of key areas, including safe energy isolation, system functional requirements, troubleshooting, electrical/fluid power interfaces, hose management, and the importance of cleanliness. Large and complex fluid power systems receive specific training on energy isolation.
Documentation and Training
APT Specialist Hydraulics and Training excels in crafting customised documentation and training materials for original equipment manufacturers' machinery. Our trainers, with their in-depth knowledge and hands-on experience, can closely relate to your staff, offering invaluable insights during training sessions.
Discover the ideal training solutions for your specialised equipment by reaching out to us today.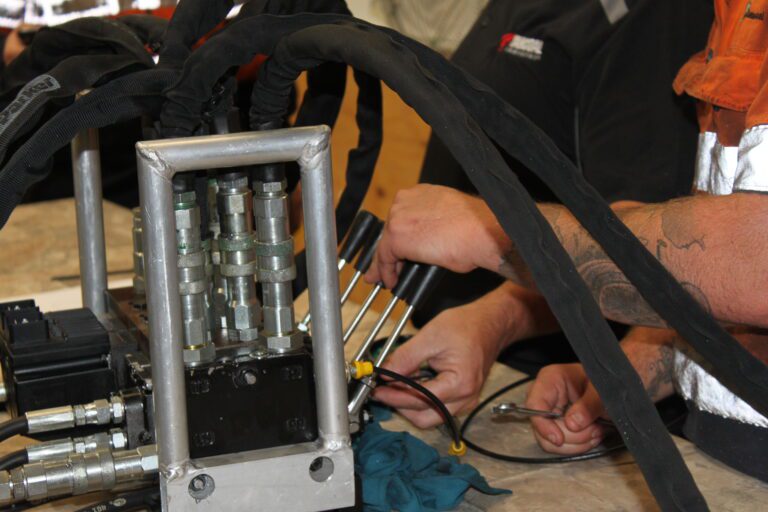 Enhanced Learning with System Simulation
For Hydraulic, Pneumatic, and Electrical courses, we utilise cutting-edge System Simulation Software. This interactive tool visually demonstrates how systems operate step by step, breathing life into schematic drawings. Our students find it easy to grasp the operating principles of a system, thanks to this engaging learning experience.
Training Anytime, Anywhere
APT Specialist Hydraulics and Training provides all-encompassing machine-specific training covering fluid power, mechanical, and electrical systems. Beyond that, our expert trainers and technical writers craft custom documentation and training materials catered specifically to original equipment manufacturers' machinery. Our mobile replication trailer allows us to bring the training to you without compromising the quality offered at our Toronto Training Centre. All we need is a room and 240V power, and we'll bring our mobile workshop simulators and interactive classroom simulations to vividly illustrate fluid power components and circuits, seamlessly linking theory and practical application.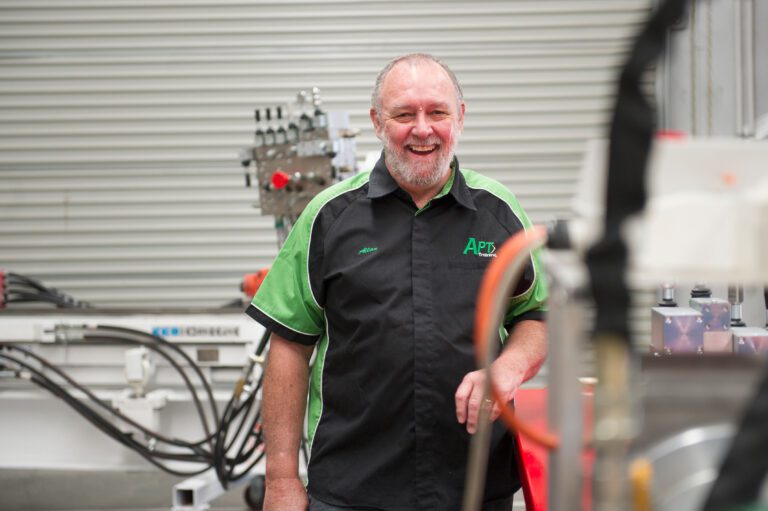 Practical Solutions for Time-Efficient Outcomes
Whether you need machine-specific training, location-specific training, or a nationally recognized qualification, APT provides on-site training solutions that deliver practical, efficient, and time-effective outcomes. Partner with us today and experience the difference firsthand.