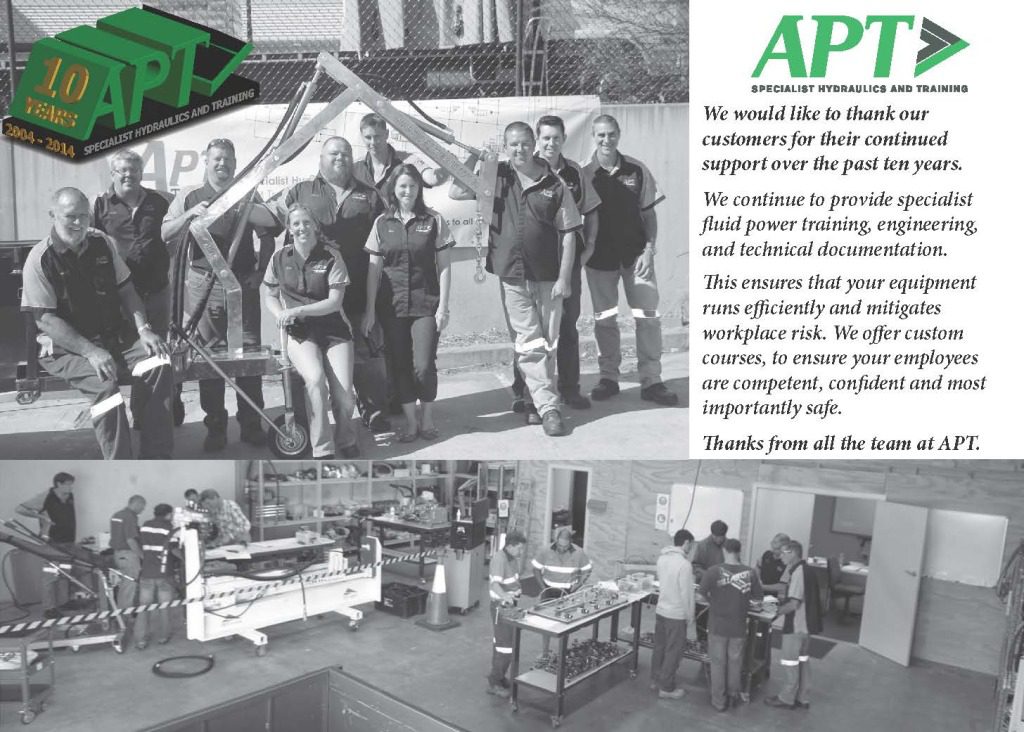 APT started out with Allan Probert and Kyle Probert addressing both training requirements and custom hydraulic solutions in the hunter valley area, with over 40 years experience and high standards they have built a reputable name for APT.
Starting as two they now they form part of a team of ten who are knowledgeable and each has first hand experience in differing areas. The APT Team have been called to various locations as far from Tasmania to Queensland mostly arising from word of mouth recommendations of APT's services from current customers and those who have seen the quality of work and level of experience of the team.
Starting from a home based operation it was quickly evident that a designated training facility was required. A short stay at Rathmines was the stepping stone to a more updated facility at the current Toronto Location. The training facility with its interactive software and machine components are reviewed and updated constantly to ensure the students get the most from their training in each of our many courses on offer.
APT is all about safety. Documentation and Design is vital for everyone working around and operating machines. APT have conducted numerous audits, after which providing a report on what is compliant and how to rectify any non compliance issues. From the Basic Safe Work Method Statements to a Troubleshooting manual, they take all the guesswork out so that employees and employers can remain productive and safe. The circuit simulation can furthermore identify any issues in a build before it commences. APT are then available to assist with the commissioning, programming, maintenance of the machine.
Working closely with companies such as Bosch Rexroth, Eaton, Centennial Coal, BHP, Glencore, UGM, WDS along with a multitude of others the APT name is growing stronger. APT continue to show their appreciation and keep sight of the big picture by utilising the services of local businesses where they can and also offer a scholarship in conjunction with United Fleet Mining Equipment as a means to give back to the community.
The APT Team enjoy making the difference in all engineering, documentation, training and operating of hydraulic, pneumatic and electrical components and are grateful to those who have supported them over the past 10 years and into the future.