Challenge Accepted.
The above were the questions posed by Tatura Milk, located in Victoria, contacted APT after a website search and received a yes reply to each question asked. Every other company that Tatura had called so far had said No.
The caller was a little shocked. Her problem was all but solved. A small chat regarding delivery date and Tatura engaged APT to deliver onsite training.
The training unit MEM18019B 'Maintain Pneumatic Systems' was required to satisfy a requirement in th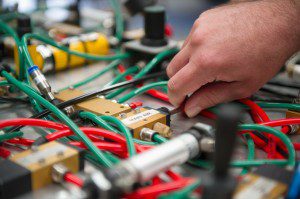 eir enterprise bargaining agreement (EBA) which had to be finished before a fast approaching date.
Being a Registered Training Organisation ( RTO ) allowed APT to extract this single unit from their existing training resources and tailor it specifically to Tatura's requirements.
APT trainer and assessor Dave Thomas travelled to site and delivered the training within 3 weeks of the first contact from Tatura and issued certificates within a week of completing the training.
A group of 4 students were involved in a range of theoretical, simulation and hands on practical activities over 2 days onsite in Tatura. APT utilised Tatura Milk's existing site training facilities and workshop equipment while also using APT's dedicated training trailer full of on-site practical equipment.
APT provided a flexible, open and comfortable environment for learning while meeting all of Tatura's specific requirements and satisfying the unit specifics in a timely manner. The glowing feedback from the students and the staff onsite was rewarding for a job well done.