Now for the results.
The students were super excited to be off on adventure on Monday 30th November.  Upon arrival it was straight into Coaches meetings and the opening ceremony.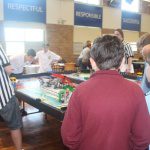 The first judging was Robot Design – the students did their best but hadn't had time to review how we designed the robot and the program, so it all went well considering.
Next up was first round of the Robot Challenge, here it was found that the table was slightly different to ours including a bit of a lean and this played havock with the robot. Although completing 2 challenges scored 0 points due to penalities.
The students were pretty down after this and feeling very frustrated. Good use of the practice time booked resulted in some time tuning the robot for one of the challenges and practicing launches.
Next was Core Values Judging straight away – the students absolutely aced this one without a lot of preparation – a true testament to the core values of the school. It was proud moment to see all the students talking the talk and understanding the values as discussed. They had to work on a mini project which once again they absolutely aced working as an impromptu team and presenting their ideas.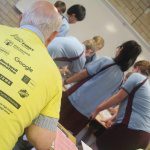 Next up was Robot Challenge 2 – this time with the robot tuned a bit they scored 70 points – they showed some really good quick   thinking when one of the programs wasn't working and made a decision to crash the demolition challenge and gain the points – well done!
There were approximately 40 schools enrolled in the competition. Biraban Public School was one of 3 primary schools from the hunter area, the others being Grafton and Scotts Head. The students spirits were raised as they hadn't realised they were one of only 3 primary schools there!
More practice time to tune the robot while the other part of the team presented the project.
Third robot challenge and the students did even better and scored 113 points.
All up, they finished 28. Awesome effort for a first attempt and with minimal practice sessions and a few teacher changes along the way.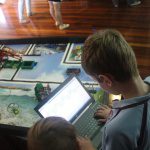 I had the chance to take the girls and introduce them to Erin Felan who is a wonderful role model. She is studying Mechatronics and Physics at uni and coaches 2 First Lego League and 1 First Tech Challenge team. The girls really lit up when Erin started talking about what she does!