It has been said that a leadership and management skills gap is one of the reasons for Australia's poor productivity growth. The Regional High Performance Network (RHPN), a pilot project which begins this month, will seek to address this gap in the regions, where business leaders are on the front line of an economy in transition.
A team from the Centre for Management and Organisation Studies at UTS Business School is working on a project that will use "peer learning" to develop the management and leadership talent to be found in regional areas.
Regional businesses play an important role in Australia's economy, says Professor Roy Green, Dean of the Business School at the University of Technology Sydney (UTS). They are also at the front line as the economy moves away from a reliance on sectors such as mining.
"We need to ensure we stimulate and enable management and leadership development in those businesses," Professor Green says.
But geography means that managers of regional businesses, in particular small and medium enterprises, sometimes don't have the same sort of access to professional development that they might if based in a metropolitan centre, says Dr Renu Agarwal, Chief Investigator of the pilot RHPN project.
Peer learning is potentially a low-cost but effective way of meeting those development needs.
"We will be targeting the development of key management and leadership competency gaps in this pilot project," she says. "Our aim is to make professional development sustainable, accessible and attractive for busy people in regional areas."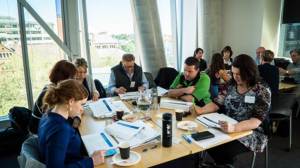 Under the RHPN program, groups of up to eight managers – owner-managers from small business and senior managers from larger businesses or public sector organisations – are being brought together across regional Australia in self-sustaining "learning communities".
"Our aim is to make professional development sustainable,
accessible and attractive for busy people in regional areas."
The pilot will involve 12 groups initially, with 10 new groups joining the two that have already gone through the pre-pilot stage of the RHPN program in the Hunter and in Gwydir Shire in New South Wales. One group is being piloted as a completely "virtual" group that will meet online only.
The learning groups will have access to education modules developed by UTS Business School and its collaborator Coaching Ourselves, with each 90-minute session focusing on a different aspect of management and leadership skills. A range of self-assessment tools and support materials will also be available online.
Each group has a facilitator drawn from among its ranks. These group leaders will soon meet at UTS Business School (September 7-8) for specialised training, ahead of the pilot beginning later this month.
"There has never been a more urgent need for high-quality rural leadership," the General Manager of Gwydir Shire Council, Max Eastcott, says. "This program addresses that issue."
Grace McLean, the award-winning founder of NFP Connect in the Hunter, who took part in the pre-pilot, says: "The course has been good for those involved in opening up the conversation and sharing information." NFP Connect brings businesses and not-for-profits together, and McLean was named BGC Young Business Person of the Year in 2014 and Lake Macquarie Citizen of the Year for 2015.
The 10 RHPN pilot project groups are being set up in Mackay, Queensland; Port Augusta, Port Lincoln and Whyalla, South Australia; Armidale and Hunter, New South Wales; Great Southern (Albany), Kimberley and Peel, Western Australia; along with the online-only team of executives from across NSW. A team coordinator will facilitate each group.
The RHPN is funded by the Federal Government through the Centre for Workplace Leadership at the University of Melbourne. For being part of the RHPN project, there is no cost to participants.
Photo: Team coordinators in training at UTS Business School. Credit: Nathan Rodger.